Below is the 2019 opening schedule for Flounders' Folly, the landmark stone tower standing 80 feet above Callow Hill, near Craven Arms, South Shropshire. The Folly is visible for miles around and provides visitors with spectacular views of countryside near and far.
Opening dates and times are provisional and depend on the weather. Check back on this website nearer the time to ensure it will be open, or follow Flounders Folly on Facebook or @Flounders_Folly on Twitter.
Built in 1838 by Benjamin Flounders (hence the name), the Folly fell into disrepair in the 20th century but was restored in 2004-5 by the Flounders' Folly Trust. It is now open to the public one day each month so people can climb to the viewing platform at the top of the 78 stairs and enjoy the wonderful views of the Malverns, the Black Mountains, Cader Idris and much much more. Specially commissioned illustrations that run round the viewing platform enable visitors to work out exactly what landmarks they are looking at in the landscape.
The footpath to the Folly from the small parking area off the lane between Lower Dinchope and Westhope is open every day, year-round, so come and have a look – there are great views on the walk up and from the foot of the tower!
Video Flyby
Take a look at our Video Flyby by Tom Woodward
Flounders' Folly Opening Dates for 2019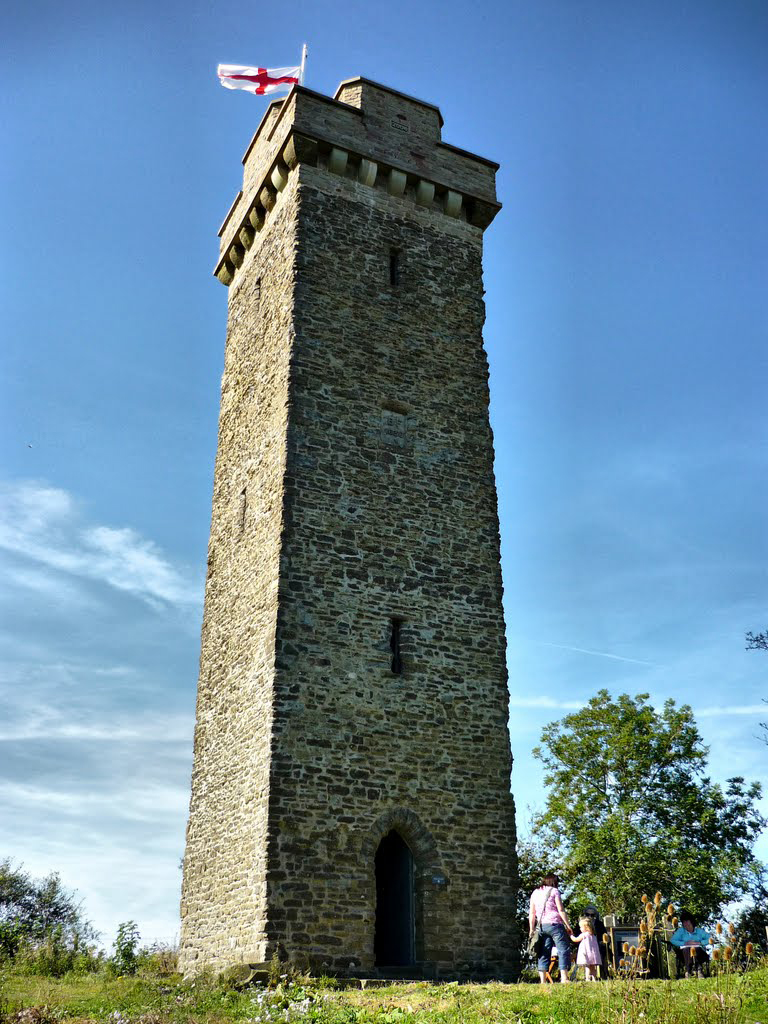 A Cross of St George flag will be flying from the Folly when it is open. As the Folly is stewarded by volunteers, opening cannot be absolutely guaranteed, particularly if the weather is really severe.
Month
Dates
Times
January 2019
27th
11am – 3pm
Feb 2019
24th
11am – 3pm
March  2019
31st
11am – 4pm
 April 2019
19th (Good Friday)
11am – 4pm
22nd (Easter Monday)
11am – 4pm
 
28th 
11am – 4pm
 May 2019
6th (Bank Holiday)
11am – 4pm
26th
11am – 4pm
 
27th (Bank Holiday)
11am – 4pm
 June 2019
30th 
11am – 4pm
July 2019
28th
11am – 4pm
Aug 2019
25th
11am – 4pm
26th (Bank Holiday)
11am – 4pm 
Sept 2019
21st (

Heritage open day

)
11am – 4pm
22nd (

Heritage open day

)
11am – 4pm
29th 
11am – 4pm
 Oct 2019
27th
11am – 3pm
Nov 2019
24th
11am – 3pm
The best place to park is at the foot of Callow Hill on the road from Lower Dinchope to Westhope, SO 457854, from where there is a footpath to the Folly.